CARO News
CARO ALS Ice Bucket Challenge
Posted on August 21, 2014
I Brent Mussato, President of CARO Analytical Services have accepted on behalf of CARO, the nomination by Western Water and the Ledcor Lightening Hockey Team to the ALS Ice bucket challenge today at noon August 21st, 2014. CARO will be donating to the ALS Association through www.alsa.org on behalf of all of our employees with the hopes of helping to find a cure for Lou Gehrig's disease. Please donate and learn more about this charity, as well as, supporting or continuing to support all other worthy charities that you support through the year.
We are all lab geeks, but we also like to have fun so, all staff at CARO participated in the ice bucket challenge at the same time today, noon pacific standard time August 21st. Here are the videos (Edmonton Office – where I was today (I was wearing shorts, not just a lab coat for those of you wondering), Kelowna Office, Richmond Office)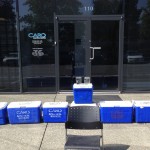 We now have the privilege of nominating others and we would like to nominate the other Analytical Laboratories with operations in Canada, Charles LeBlanc and ALS Environmental, Jon Hantho and Maxxam Analytics, John Desanti and Agat Laboratories, Dave Hope and Pacific Rim Laboratories (challenge accepted – video here), Blair Colquhoun and Paracel Labs, Bob Corbet and Access Labs and all other analytical firms in Canada. You have 24 hours to respond. Thank you in advance for supporting the cause.
Sincerely,
Brent Mussato
President
CARO Analytical Services
CARING ABOUT RESULTS, OBVIOUSLY.