CARO Supports Victims of BC Flooding With Free Water Testing
Posted on May 12, 2017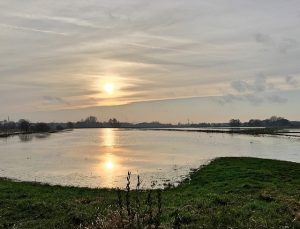 Flooding in BC's interior could have a catastrophic impact on the quality of drinking water for the nearly 30 percent of the provinces population dependent on groundwater for domestic use.  As Ottawa's Health Officials recommended in the news in early May ( here), BC's Professional Health Offices could have followed suit and begin advising residents in flood zones to get their well water tested before consumption.
How do floods impact groundwater sources? Waterborne pathogens (germs) are more likely to contaminate well water following a flood. Specifically, the crucial safe-to-drink bacteria indicator, Coliforms, are significantly more likely to occur when water is recharging groundwater aquifers following heavy precipitation. Any well that has been immersed in flood water or is located near an area that was flooded should be considered contaminated. More information on how to treat a groundwater source can be found online here.   It's important to note that most household filters including pitcher-type carbon filters will not disinfect water.
As the only accredited testing laboratory in the Okanagan region, CARO Analytical Services, a BC based commercial laboratory approved by the BC Public Health Office through the Enhanced Water Quality Assurance (EWQA) program, was in an ideal position to help through the recent crisis. CARO has been providing drinking water analysis in BC for 30 years and we test thousands of drinking water samples a year for private and public clients, including the Interior Health Authority.
Along with all the current support we are doing to help ensure our clients have clean, reliable and safe water, we reached out to ensure that all concerned citizens have the opportunity to ensure that their drinking source is reliable through this time.  During the month of May, we offered free microbiological drinking water tests to clients whose water sources were impacted by the floods and were able to come by and pick up the micro bottle at our Kelowna laboratory location.    
Through the crisis, we were open as usual and worked with all districts to ensure that we could be an effective supporter of the regions precious water resources.
*Free testing was offered until May 31, 2017. Visit our online store or contact us anytime to discuss your current needs.