CARO's NEW BC Protocol 19 Soil Relocation Package
Posted on March 29, 2023
CARO's Soil Relocation Promotion has now ended as of September 30th, 2023. 
Just a few short weeks ago, Version 1 of BC's Protocol 19 for Contaminated Sites, as issued by the Ministry of Environment and Climate Change Strategy, was officially enforced. Not to sound like your channel 9 News Broadcast, but this is BIG NEWS for the environmental industry and has raised questions and concerns about how it will affect project timelines and budgets.
As an environmental laboratory, we will leave the full interpretation of the soil relocation web (Figure 1, below) to the professionals: the consultants, environmental contractors, and the provincial government.   Where we CAN help as your laboratory experts is by doing what we do best – quick and reliable soil testing.  When it comes to Protocol 19, CARO does it all, including Metals and PAHs in accordance with Protocol 19 section 5.3, and other potential contaminants of concern (PCOCs) that may crop up. Keep reading for the details around our QUICK, LOW-COST Soil Relocation Package, designed to ease the uncertainty around timelines and budgets as you navigate these changes.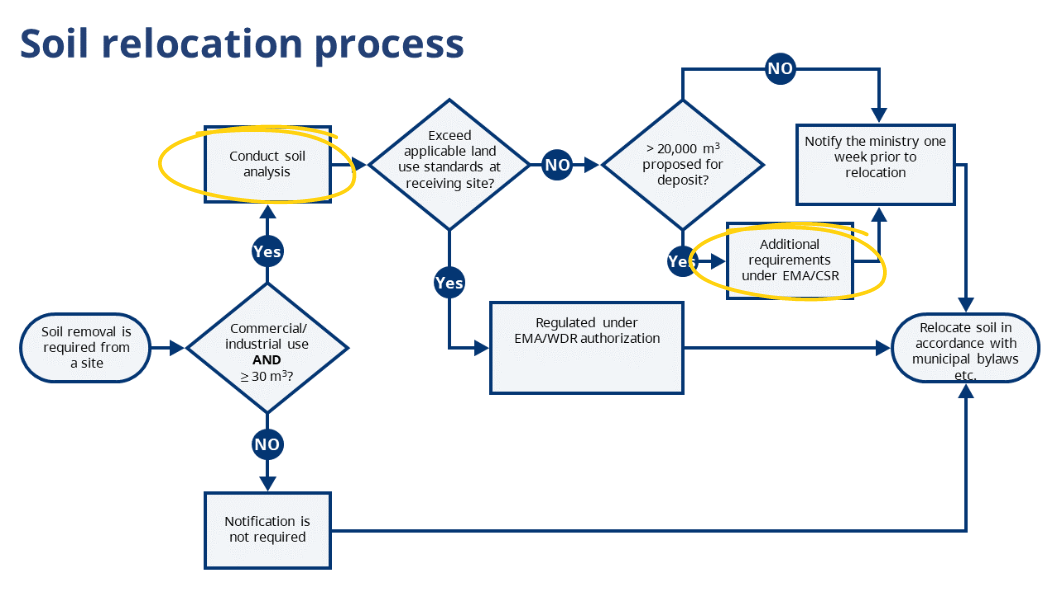 Figure 1. Soil Relocation process, as outlined on the Province of BC's Website, here.  Yellow circles outline where CARO can help.  For more information on BC's soil relocation Protocol 19 click here.
The DEDICATION:
At CARO we 've spent the last few months optimizing our operations to increase soil testing capacity and throughput and listening to your questions and concerns regarding roll-out.  In response to these concerns, we have designed a SOIL RELOCATION SPECIAL PACKAGE that offers a little bit of something for everyone: one low cost (for those $-conscious programs), a quick TAT (for those last-minute planners), and the high-quality data you have come to expect from CARO (…obviously.)
So, give us all of your dirt – we're ready for it! 
The DEAL:
Bringing you 'Big Picture' value, CARO's $99 Soil relocation package includes all the standard parameters required in Section 5.3 of Protoco
l 19, including Metals + pH and PAH in soil, on a
2-day TAT!
The DIRT (the fine print):
Anyone can take advantage of the Soil Relocation Special if your project satisfies the following conditions:
It includes a minimum of 20 soil samples submitted together, for confirmatory screening in accordance with Protocol 19 for non-waste soil, and

Samples are logged using CARO's eCOC tool (don't worry, we've made it SUPER easy to do.  If you don't have an account yet, you can sign-up here!)
To get started, contact your CARO Account Manager, Sales contact, or email [email protected] to get this SPECIAL package added to your account.   Note that this package is valid for a limited time only so make sure you don't miss out.   Be prepared by checking off your CCI sign-up and reaching out to your account manager as soon as possible, so you can get that pricing locked in and ready to rock as soon as your clients are!
As you focus on navigating these new processes, you can rest assured that the laboratory portion of the work will run as smooth as silt.  As always, CARO's environmental labs in BC and Alberta are here to help; if you have any questions you can get in touch with our team of charismatic scientists directly by emailing [email protected] or calling the main line at 1-888-311-8846.